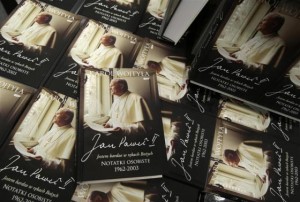 It was recently announced that Cardinal Stanislaw Dziwisz did not burn the private papers of Bl. John Paul II, as was requested in his will.
Now they are being published in book form in Poland, and it's causing quite a stir!
It also raises some interesting questions.
Here are 14 things to know and share . . .
1) Who is Cardinal Dziwisz?
Currently, he is the Cardinal Archbishop of Krakow, Poland.
But, many years ago, in 1966, he was appointed the personal secretary of Karol Wojtyla, who was then the Archbishop of Krakow.
Archbishop Wojtyla was made a cardinal the next year, and in 1978 he was elected to the papacy and became Pope John Paul II.
When that happened, he retained the future-Cardinal Dziwisz as his personal secretary, and he served him in that capacity until his death.
Cardinal Dziwisz was thus one of the individuals closest to John Paul II during his pontificate—and before.
2) Where did John Paul II express his wishes about his private papers?
The document in question is known as the Testament of Pope John Paul II, and it is available online.
The document was first written in 1979 and supplemented and modified over the years, as John Paul II's reign progressed.
The part dealing with his private papers is in the first section, written just a few months after he became pope.
3) What does that passage say?
The relevant passage reads:
I leave no possessions of which it will be necessary to dispose.
As for the things I use every day, I ask that they be distributed as seems appropriate.
Let my personal notes be burned.
I ask that Fr. Stanisław [Dwizisz] see to this, and I thank him for his help and collaboration, so understanding for so many years.
On the other hand, I leave all my other "thank yous" in my heart before God Himself, because it is difficult to express them.
Note that Cardinal Dwizisz is the only person John Paul II singles out by name for thanks. That is how close the two were.
4) Did John Paul II "order" Cardinal Dwizisz to burn the papers?
Some news outlets (like this one) are reporting it just that way, but "order" may not be quite right.
I don't speak Polish, so I can't comment on the force that the statement has in the original language of the document, but "Let my personal notes be burned" is not as strong in English as "I order that my personal notes be burned."
5) Did John Paul II ever modify his instruction?