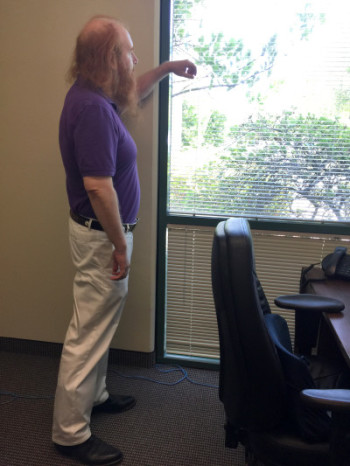 If you follow me on Facebook, you may have seen that I've recently been chronicling my weight loss journey there, and there's been a lot of news to report! (The picture is one of me now that I can fit into a shirt that just has an L on the label–no X or XX.) Update: I'm now wearing medium shirts, so I've changed the picture.
A few months ago, at the suggestion of my physician, I began to practice intermittent fasting, and it's really accelerated my weight loss. At the time of writing, I've lost 29 lbs 38 lbs 47 lbs 58 lbs 69 74 lbs (it may be more by the time you read this), it's produced other health benefits (including improved sleep and energy), and it's been surprisingly easy (very little hunger at all).
I plan to do a blog series about my experience in the new year, but folks on Facebook have been asking a lot of questions, so I thought I'd jot down a few notes here until I can launch the series.
You're really fasting?
Yes.
Really?
Yes.
Are you hungry all the time?
Not at all. I was surprised at how little hunger I've had. I had some for the first few days after I altered my eating pattern, but they went away quickly.
I called a friend who does a lot of fasting, and he said his experience is that hunger is largely a matter of habit. When your body is used to getting a new influx of calories, that's when it sends the "It's time to eat now" hunger signal. If you ignore that signal when it comes, it will re-set to the new normal and stop sending you the hunger signal at the old times.
I later asked my doctor about this, and she said it has also been the experience of her patients who have tried intermittent fasting.
What do you do when hunger does come?
I may drink non-caloric beverages to fill up my stomach (water, tea, coffee, no-calorie sodas with stevia [a natural, non-caloric sweetener]).
I also just ignore it, because hunger isn't a constant. It comes in waves, and my experience has been that if I ignore it for 20 minutes, it will go away on its own.
Really, though, I've been amazed at how little hunger there has been.
Jimmy, I'm concerned for you. This sounds unsafe.
Thank you for your concern, but please don't worry.
First, my doctor was the one who recommended it.
Second, I'm doing it under a doctor's care, so all the right things are being monitored.
Third, it's actually very safe (see below.) Fasting is actually a normal part of human experience. We're designed for it. It's just not part of our culture (which is a big part of our culture's problem with weight management and various health issues).
Fourth, in case of problems, fasting is the easiest thing in the world to stop (also see below).
Won't fasting slow down your metabolism?
Not if you're doing it right. Calorie restriction will slow down your metabolism, but calorie restriction and fasting are two different things, and the body responds to them differently.
If you reduce the number of calories you eat at each meal but you continue to eat 3-7 times a day then your body will think food is in short supply, but that you do have a supply of it. In that case, your body will adjust your metabolism to the supply it thinks you have. You will get sluggish, irritable, and may feel colder than you otherwise would.
But if you stop the calories, your body will think you don't have a food supply and that it needs to start burning fat, which is what the fat is there for.
Your body doesn't know that we aren't still living in caveman days, so if you aren't putting new calories in, it think that your food supply has run out and that you need to go kill a bison or something.
It therefore does things to help you be a better bison hunter, like keeping your metabolism revved up.
Won't fasting cause you to burn muscle instead of fat?
No. We can show that people who are fasting aren't burning muscle because when the body burns protein (the stuff muscle is made of), there is a byproduct known as urea. When people are eating normally, they have substantial levels of urea in their blood from the protein they eat. But when they start fasting, the levels of urea in their blood plummet, showing that they are not burning protein–either from food (which they aren't consuming) or from muscle.
See this video for more info on that.
Bottom line: You need muscle to go hunt bison, so your body burns the fat and preserves the muscle. The purpose of the fat is to be burned as fuel, so that's why the body burns it. The purpose of muscle is to help you catch bison, so the body leaves it alone. It will only turn to burning muscle if you've used up all your fat and it has no other choice.
Won't fasting make you mentally fuzzy or give you headaches?
No. You need mental clarity to hunt bison, so your body has an incentive to keep you clear headed. Giving you less clarity or headaches would interfere with a successful bison kill, so your body won't do that to you.
Or that's been my experience. If you are used to consuming something (e.g., coffee) that will cause headaches if you stop, and if you then suddenly stop, then you may get headaches. However, it's not the lack of calories that's causing the headache. It's the lack of the specific thing that's causing the headache.
Also, since coffee is a no-calorie beverage, you can have it when you fast! (Just don't add cream or sugar.) So you can avoid the problem.
People generally report more mental clarity when fasting, not less, which makes sense if your body is preparing you to go kill bison.
Isn't fasting unsafe?
For the vast majority of people, no. See previous answers.
Also, billions of people fast, at least occasionally. Catholics, Jews, and Muslims all practice intermittent fasting.
And we're built for fasting. Our bodies are made to put on fat in times of plenty so they can use it for fuel when the food runs out. That's why it's there in the first place. Feasts and fasts are normal parts of human experience, historically speaking, and our bodies are built to handle them.
However, there are some medical conditions in which people either should not fast or should do so under a doctor's care. This is particularly the case when you are on medications that you may need less of when you fast. For example, diabetics are likely to need less insulin, people who take blood pressure meds are likely to need smaller doses. If you don't adjust your dosages, your blood sugar or blood pressure might go too low. Therefore, consult your doctor.
However, needing less of these medications is actually a good thing. It means your health is improving! Yay!
More info on these conditions in the resources recommended below.
So what kind of fasting are you doing?
Currently I am eating one meal a day with no snacks. (BUT SEE HERE ON SNACKING.)
The one meal I eat is not calorie-counted, but it's obviously way less than what I would eat during the course of an ordinary day of eating.
It's also usually low carb/high fat, though I don't have to be as strict about that as normal.
I eat it in the evening, but you can do it whenever in the day would suit you.
I also stay hydrated and take my normal vitamins/nutritional supplements.
How is eating a meal a day fasting?
It's an intermittent fast–meaning that I do take some food on a regular basis (in my case, currently once per day).
It's not a long-term, unbroken fast.
Are long-term, unbroken fasts dangerous?
Well, you will eventually need new calories, but people can go for much longer than they suppose and be perfectly healthy on a fast.
Some individuals literally fast for weeks or months.
The longest fast on record was a Scottish gentleman who–under his doctor's care–only took water and vitamins for 382 days (no food for more than a year!) and was fine. He also went from over 400 lbs to under 200 lbs, which was the point.
I'm interested in fasting, but I'm afraid to start all at once. Is there a way to work into this easily and gradually?
You bet! That's what I did. I took it in stages:
I started with a low carb/high fat diet so that, without the carbs, I wouldn't have the insulin spikes and the resulting hunger they cause (this is why people are famously hungry an hour after eating Chinese food: the high carbs lead to high blood sugar, that leads to insulin release, that leads to a blood sugar crash, and that leads to hunger to get the blood sugar back up)
Then I cut out all snacks, so I was eating only three meals a day.
When hunger did come, I would drink non-caloric beverages or just ignore it since I knew it would shortly go away on its own (see above).
Then I dropped breakfast (the idea it's the most important meal of the day is not true, which is why so many people find it easy to skip).
Once I was used to eating two meals a day (lunch and a late dinner), I started moving lunch later and later in the afternoon, to narrow the window in which I was eating and extend the period each day in which I was fasting.
Once "lunch" was within a few hours of dinner, I dropped "lunch."
This stepwise approach was so successful for me that, the day I first went to one meal, I wasn't even hungry at dinner time. But it was when I had determined to eat, so I did.
I don't think I could do low carb. Would that stop me from fasting?
No. Fasting is just not eating, so you can do fasting no matter what diet you normally prefer.
What if I encounter problems fasting?
I love the way the book I recommend below puts it:
What happens if you do get hungry or don't feel good while intermittent fasting? Ummmm, hello, McFly? You eat something! This isn't rocket science, people (The Complete Guide to Fasting, p. 21).
What are some of the benefits of fasting?
They include:
Weight loss
Lower blood sugar
Lower insulin resistance
Lower blood pressure
Lower inflammation
It may provide added protection against cancer
Greater mental acuity
You don't spend as much money on food
You don't spend as much time procuring, preparing, and consuming food
You get the chance to practice self-discipline
More info on some of these here.
In my case, I also found my sleep improved (which is noteworthy, because I'm a lifelong insomniac).
If we're built for fasting and if it has all these benefits, why don't we hear about it more?
Several reasons. Among them:
Big Food has zero interest in not selling you food. It spends enormous amounts of money in advertising trying to get you to buy stuff to eat.
Therefore, when its "eat all day by adopting a grazing strategy of three full meals plus three or more snacks" causes people to gain weight and have health problems, it's solution is not going to be "don't eat." It's going to be "eat something different" (e.g., expensive diet products or the latest fad's "superfood").
Big Pharma has zero interest in not selling you drugs and medical procedures. Therefore, if you're suffering from obesity and medical problems, their solution is not going to be fasting but "what kind of drugs or medical procedures can we sell you to address or manage these?"
As the result of economic incentives like these, fasting has virtually disappeared from our culture, though it used to be the norm. Fortunately, it's being rediscovered, and studies are backing up its health benefits.
Where can I get more information about fasting?
I recommend this book: The Complete Guide to Fasting: Heal Your Body Through Intermittent, Alternate-Day, and Extended Fasting by Jason Fung, MD, and Jimmy Moore.
I also recommend this video as an introduction:
For more detail, check out Dr. Fung's epic, six-part series on the science of fasting here on his YouTube channel.
And here's a web page you can read: Intermittent Fasting–Questions and Answers.
Are you recommend that I fast?
As part of your religious duties on Ash Wednesday and Good Friday (assuming you're Catholic), yes–unless you have a medical reason not to.
Otherwise, no, I'm not making recommendations here. I'm explaining what my experience with fasting has been and answer common questions people have asked me.
If you think fasting might be for you, great! It's certainly helped me! But, as noted above, be sure to check with your doctor, particularly if you have medical conditions requiring things like insulin or blood pressure meds.
God bless you, and stay positive in the combox, folks!
UPDATE 1: For more on my experience with fasting, including many common questions, click here!
UPDATE 2: Here's info on why newspaper diet advice is usually horrible, focusing on a piece in The Telegraph that completely botches the issues of "skipping breakfast," "snacking and grazing throughout the day," and intermittent fasting.
UPDATE 3: Snacking and Intermittent Fasting (the news is better than you might think!)
UPDATE 4: Fasting Update: The Soup and Noodles Solution
UPDATE 5: Body Fat Testing and Weight Loss Targets
UPDATE 6: Does Fasting Cause Loose Skin?
UPDATE 7: Here's a video of me and Cy Kellett discussing the spiritual and physical aspects of fasting on Catholic Answers Live: