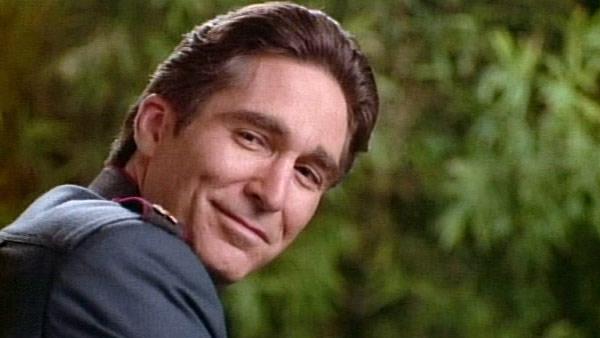 Goodbye, old friend . . .
In 1992, actor Michael O'Hare was cast as Commander Jeffrey Sinclair, the lead character on the television program Babylon 5.
He remained with the show for its first season and then was suddenly written out.
When the second season began, Sinclair was replaced by Capt. John Sheridan, played by Bruce Boxleitner.
While I very much enjoyed Boxleitner's performance, I–like all the existing fans–wondered what happened to O'Hare.
The truth is something I never guessed . . .
What People Did Guess
The leading theory in fandom was that the executives at Warner Brothers (or its subsidiary PTEN, which ran Babylon 5) had demanded that O'Hare be fired and replaced.
According to the common account, the show was struggling to get off the ground, and O'Hare's performance was thought to be a drag on it.
A new, more likable main character needed to be brought in, and so the stoic Sinclair was replaced by the ebullient Sheridan.
It was thought that this was unfair to O'Hare, because he had been intentionally asked to play a character who was wounded.
The Battle of the Line
Sinclair had fought at the Battle of the Line, when the Minbari nearly destroyed Earth.
Something mysterious happened to him during this battle, and his memories of it had been erased.
The result left him one of the walking wounded.
During the first season of the show, cracks began to appear in the wall that had been built in his mind, and his memories began to resurface, bit by bit.
In one episode in particular, a covert group of agents from Earth put him through a kind of psychological torture in an attempt to force his memories to resurface.
Because he was mentally injured by the mysterious thing that happened to his character at the Battle of the Line, O'Hare was asked to initially play the part as solemn and reserved.
The idea was that he would open up as his character arc progressed and as he learned what had happened to him and he dealt with it.
By the end of the first season, he was less stiff and formal than he had been at the beginning. The loosening up was happening.
It seemed unfair that, just as the character was reaching this point in his personal story arc, he was written out by the executives' demands.
Not the First Time
It wouldn't have been the first time that this kind of thing happened in a television series–or even a science-fiction series.
In the long-running BBC Doctor Who franchise, the sixth actor to play the Doctor–Colin Baker–had been asked to play a deliberately abrasive Doctor in 1984.
When he was first introduced, he acted arrogant and erratic and physically attacked his uncomprehending companion.
He also declared: "I am the Doctor, whether you like it . . . or not!"
It seemed like a deliberate affront to the fans of the show, who immediately began to complain about the "unlikeable Doctor."
The idea was that the arrogant, erratic Doctor would eventually be transformed into a likable one over the course of his character arc, but this wasn't clear to the viewers, many of whom had a strongly negative reaction.
The show suffered as the result of this disastrous creative decision, and Colin Baker was fired in 1986 and the part went to Sylvester McCoy.
O'Hare's Departure
Had the same thing happened on Babylon 5?
Had J. Michael Straczynski's (JMS's) creative decision to introduce Cmdr. Sinclair as an initially stiff, wounded character doomed him, just as he was starting to loosen up on the show?
This is what a lot of fans thought.
Their speculation seemed confirmed when, after O'Hare's departure was announced, JMS took out an ad in the Hollywood newspaper Variety (if I recall correctly) endorsing Michael O'Hare, seeking to help his career as an actor.
It looked like JMS and O'Hare were on the same side against "the suits."
Truth Is A Three-Edged Sword
But it turned out that the truth is something far stranger . . . and more tragic.
It can only be told now that O'Hare has passed away.
Michael O'Hare suffered a heart attack in September 2012 and died a few days later.
Just a couple of weeks ago, at a science-fiction convention in late May 2013, JMS revealed the truth that had been hidden all these years.
Between the Darkness and the Light
According to Wikipedia:
During the filming of the first season of Babylon 5, O'Hare began exhibiting symptoms of schizophrenia.
Halfway through filming, his hallucinations worsened and the stress of playing a character who was suffering from a similar mental illness was becoming overwhelming.
Remember that O'Hare was being asked to play the character of Sinclair, who had been psychologically wounded at the Battle of the Line and who now was suffering with breakthrough memories caused, in part, by the attempt of sinister, persecuting government agents to force his missing memories to the surface.
It became increasingly difficult for O'Hare to continue work, his behavior was becoming increasingly erratic and he was often at odds with his colleagues.
O'Hare sought treatment for his mental illness, but feared that, as the main character of Babylon 5, taking an extended medical leave of absence would destroy the show just as it was getting off the ground.
This brings us to the same point that many fans suspected: the future of the show was in question.
Only instead of it being O'Hare's on-screen performance as judged by executives that was a threat to the show, it was O'Hare's psychological health, as judged by O'Hare himself that was the threat.
Acts of Sacrifice
So what happened next?
J. Michael Straczynski, the show's creator and main writer, offered to suspend the show for several months to accommodate O'Hare's treatment; however O'Hare refused to put so many other people's jobs at risk.
Straczinski agreed to keep his condition secret to protect O'Hare's career.
O'Hare agreed to complete the first season but would be subsequently written out of the second season so that he could seek treatment.
The Long, Twilight Struggle
According to Wikipedia:
He reappeared in a cameo appearance early in season two and returned in season three for the double episode War Without End which closed his character's story arc.
He made no further appearances in Babylon 5.
Although his treatments were somewhat successful, he was never fully cured.
On his return to Babylon 5, Straczinski promised again that he would keep his condition secret to his grave.
O'Hare told him to "keep the secret to MY grave" pointing out that fans deserved to eventually learn the real reason for his departure, and that his experience could raise awareness and understanding for people suffering from mental illness.
On May 25th 2013, Straczynski fulfilled his end of the promise and finally revealed the reasons behind O'Hare's departure from Babylon 5.
Beyond the Rim
Here's the video of JMS explaining what happened to Michael O'Hare and the other actors from the series who have passed, including Richard Biggs (Stephen Franklin), Jeff Conaway (Zack Allen), and Andreas Katsulas (G'Kar).
Discussion of Michael O'Hare's departure begins at 9:40.