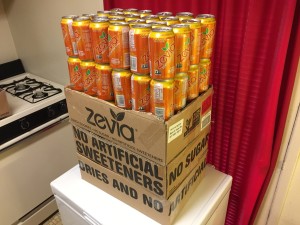 Time to take some more notes and answer some questions regarding my fasting experience.
First, I have now lost 38 lbs 47 lbs from my recent high, which means I have lost more than 100 lbs since my all-time high! Woo-hoo!
To visualize 100 lbs, I calculated how many cans of soda it takes to equal that weight. It turns out that it's 120 cans of soda or five cases of 24 cans each.
Here's a picture of that.
See here for my main post on intermittent fasting.
Do people with weight problems simply lack motivation or willpower?
Imagine carrying five cases of soda around all the time and being unable to set them down–ever, even for a moment—even when you're lying on your back!
Now think about how that affects the blame-the-victim, "You just don't have enough willpower" attitude our society encourages us to adopt regarding those who struggle with weight.
Anyone carrying that much additional weight (like I was) is suffering tremendously and will be highly motivated to get rid of it.
My problem was not lack of willpower but lack of knowing how to get the weight off.
The standard "eat less, move more" advice you hear doesn't work (and studies show that it doesn't). Similarly the "eat less fat, fat makes you fat" approach doesn't work.
Once I discovered an effective means of losing weight (initially low carb, and now low carb plus intermittent fasting), I stuck to them like crazy–to the point that I know others have come to regard me as a diet disciplinarian (at least when it comes to myself). I won't break my diet just because people are having a party or I'm in a social situation, and I'm willing to be viewed as an oddball for the sake of not impeding weight loss. Motivation and willpower are not problems.
So bear all that in mind when you see someone who has weight issues. Willpower is likely not the issue, but lack of knowledge of an effective way to get the weight off and keep it off. (Because, if you don't have that, there's no point.) Odds are, they would become very focused and determined if they found an effective and sustainable way to lose weight.
If you're doing intermittent fasting, do you need to do anything extra on Ash Wednesday and Good Friday?
It depends on what kind of intermittent fasting (IF) you're doing, but you may already be fulfilling the canonical requirements for fasting on those days.
Church law allows Catholics in the Latin Rite to have one full meal on Ash Wednesday and Good Friday, as well as "some food" (less than a full meal, but not any specified amount) on two other occasions.
If you're eating that much or less, you're fulfilling your obligation and don't need to do anything extra (other than also observe abstinence from meat).
That said, it is a good and praiseworthy thing even for those who are doing IF to reduce their food consumption even more on those days. It's just not legally (or morally) required.
If you're fasting for health reasons, does that prevent you from offering it up to God?
Not any more than anything else you have a good, non-religious reason to do. St. Paul states:
So, whether you eat or drink, or whatever you do, do all to the glory of God (1 Cor. 10:31).
Whatever your task, work heartily, as serving the Lord and not men, knowing that from the Lord you will receive the inheritance as your reward; you are serving the Lord Christ (Col. 3:23-24).
We can–and should–take any and every good thing we do and offer it up to the Lord, because it's good and we want to do good in accord with his will.
The fact that there are non-religious reasons for doing it is part of why it's good. Thus the non-religious reasons don't stop us from doing it "unto the Lord" or "to the glory of God." And they thus don't deprive it of having a spiritual aspect that God will reward.
In fact, in the case of weight loss (or other health benefits), one may view the act of fasting as making spiritual reparations to the extent that getting into this weight/health situation was our fault–and as pure good work to the extent it was not our fault (e.g., due to being misinformed about what a "healthy diet" consists of and eating accordingly).
Having said that, if you don't do something with a spiritual orientation–if it isn't at least in the back of your mind by way of what theologians call a "virtual intention"–and you're doing something for purely non-religious reasons then it won't have a spiritual dimension and so won't benefit you in that way.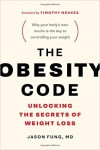 Have you discovered any new, good books relating to this area?
Yes! I've been doing more research in this area, and I have two new books I can recommend:
First, there is Dr. Jason Fung's book The Obesity Code, which is focused on the science behind obesity–what causes it and how it can be successfully fought.
This is not a standard diet book, but a serious look at the science. If you're a diet skeptic like I am and have a "show me the science" attitude, this is the book for you!
Second, there is Gary Taubes's new book The Case Against Sugar. This is a devastating critique of the "calories are the only thing that matters" view and how our society has been severely damaged by Big Sugar and its manipulation of social policy to pump more sugar into the American diet.
Both books are also available on Kindle and Audible.
Both are highly recommended.
Good stuff, Maynard!
What if you have diabetes? Can intermittent fasting help you?
Yes! Absolutely! Here is a talk by Dr. Jason Fung on precisely that point regarding Type 2 diabetes:
I also know a many people who have Type 1 diabetes (formerly called "juvenile diabetes"), and fasting can also help them, though you have to monitor your blood sugar more carefully. Info on that here.
Are you exercising?
Yes. I use both high-intensity, interval exercise and low-intensity, endurance exercise on a regular basis.
At least once a week, I spend 60-90 minutes doing high-intensity, interval-based exercise in the form of one kind of folk dance.
Also, at least once a week I spend three hours doing low-intensity in the form of another kind of folk dance where I am on my feet the entire time.
However, here's the deal: Despite the "eat less, move more" rhetoric that infests our cultural discourse, exercise does not help you with long-term weight loss.
The number of calories burned in exercise is far too small, and it has the opposing effect of potentially increasing your appetite and thus the number of calories you take in.
Exercise has various health benefits, but weight loss is not one of them.
I dance because it's fun–and for the other health benefits of exercise. But I don't exercise for weight loss because both scientific studies and my own experience shows that it won't help with that.
Since you're eating only one meal per day, do you miss food and/or cooking?
A little. I love cooking, I'm good at it, and I love trying out new recipes.
The fact I'm eating only one meal per day means that I don't have the opportunity to try out as many recipes.
The fact that the one meal I eat tends to be late (between 8-10 p.m. in my case, depending on when I get home from dances) also means I tend to go for simple recipes that don't require a lot of complex cooking, and this deprives me of the opportunity to do new, creative things.
However, I'm far more jazzed about losing weight than I am about trying new or different recipes, so that overrides other considerations. (There's that motivation thing again!)
If you're doing one meal a day, when is the best time to eat it?
Probably in the morning. You'll probably lose more weight that way, but that doesn't work for me at the moment.
Aren't you hungry all the time?
Absolutely not! Once your body has shifted into taking energy from your fat cells (which is what the fat cells are there for), it has an energy source, and it doesn't need to send you the hunger signal to get you to consume more food and get more energy.
Not long ago, I spent hours on a Saturday watching YouTube cooking videos, just because I was interested in the recipes and the techniques the chefs were using to prepare them.
But despite the fact that I spent hours looking at and thinking about food, I wasn't hungry at all!
As covered in my original post, hunger is largely a matter of habit, and if you wait a couple of days, your body will figure out that this isn't eating time any more and will stop sending you hunger signals then.
Also, hunger isn't a constant. When it does come, it comes in waves, and you can drink non-caloric liquids (water, coffee, tea, etc.) to fill your stomach.
My experience is that hunger isn't strong and that it usually goes away in 20 minutes or so. (Though it may reappear 2-3 times.)
On some days, I find that I experience mild hunger in midday. I'm interpreting this as a good thing, as signalling me that my body is making the transition from using the energy from the one meal I ate the previous night into fat burning mode.
The earlier in the day this happens, the better! It means I have more time for fat burning before the next meal.
Yah-hoo!
Hope this helps! Till next time, gang!