There are different ways to make low-carb equivalents of macaroni and cheese. Some use actual low-carb macaroni noodles, but these can be hard to find, and the texture often is not the same as familiar versions of the dish.
Here is one of my favorite ways to make a low-carb version. It is extremely easy, and it uses only ingredients that you'll find at a typical supermarket.
1. Get the ingredients
There are only three ingredients:
Heart of palm (14 oz. can)
2 oz. of Velveeta (1/2 inch of the large-size blocks)
3 Tablespoons of unsweetened almond milk (or heavy whipping cream, or Half & Half, or just water)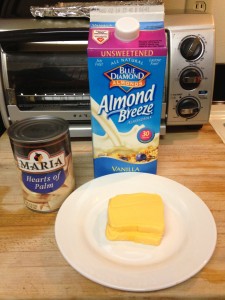 2. Cut the heart of palm into bite-sized pieces (I like thin rounds, but other shapes, sizes are possible)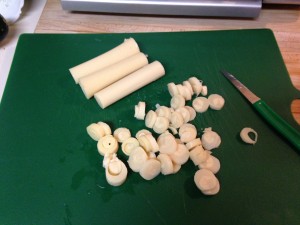 3. Cut the Velveeta into smaller, flat chunks so it will melt more quickly and put it in a small saucepan with 3 Tablespoons of unsweetened almond milk (or whatever liquid you are using).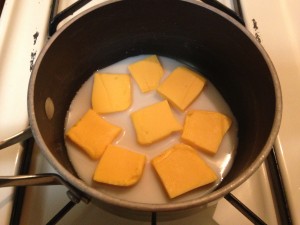 4. Heat the mixture on Medium/Low heat, stirring, until the Velveeta melts (this happens pretty quickly)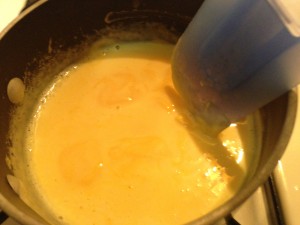 5. Gently fold the heart of palm slices into the sauce and serve!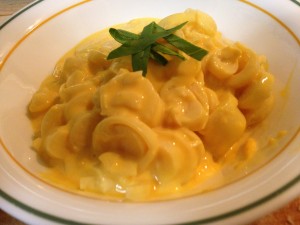 NOTES:
This recipe re-heats and refrigerates well (particularly nice if you like cold macaroni and cheese, as I do).
Heart of palm has a texture that is very much like that of traditional macaroni, even though the shape is different.
You can also use other low-carb items in place of or in addition to the heart of palm–e.g., mushrooms (button mushrooms, or pieces and stems), artichoke hearts, and tofu (though tofu is more fragile than the others, so be extra careful folding pieces of it into the sauce).
You can make the cheese sauce other ways. Velveeta works particularly well–including better than some store-brand knockoffs of Velveeta.
You can add various garnishes to it, including sliced, fresh basil (pictured), chives, or green onion (consider heating the white part of the sliced or chopped green onions with the sauce to make these parts softer).
You can also add spices like black/white pepper, garlic, or mustard to the sauce or on top.
Think about slicing up and adding other things, like tomatoes or hot dogs.
Treat this as you would regular macaroni and cheese and add whatever you normally like to it!