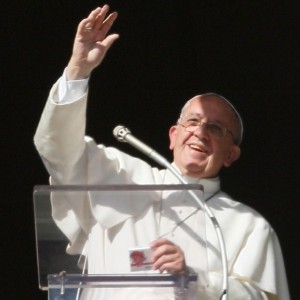 Pope Francis has given a new interview in which he makes several important clarifications.
These concern allegations that he is a Marxist, suggestions that he will soon appoint women cardinals, and proposals to give Holy Communion to those who have divorced and remarried without an annulment.
He also makes several other interesting comments, including plans for an upcoming trip to the Holy Land, breastfeeding in public, and what happened right after he was elected.
Here are 9 things to know and share . . .
1) Who did he give the interview to?
He gave it to the Italian newspaper La Stampa.
You can read the full interview here (and should; it's worth it!).
This interview is different than the recent one which was yanked from the Vatican web site. That one was conducted by an atheist publisher (Eugenio Scalfari) who relied on his memory to give a partly fictitious account of what the pope said.
This one is with a well-known and respected Catholic expert on the Vatican, Andrea Tornielli.
Much greater care appears to have been taken with this interview, and at one point the Pope goes out of his way to deliberately correct what was written in the other one.
2) What does the Pope say regarding a proposed trip to the Holy Land?
In addition to expressing concern for the plight of Christians in Bethlehem, he indicates that he plans to go, stating:
Fifty years ago, Paul VI had the courage to go out and go there and this marked the beginning of the era of papal journeys.
I would also like to go there, to meet my brother Bartholomew, the Patriarch of Constantinople, and commemorate this 50th anniversary with him, renewing that embrace which took place between Pope Montini and Athenagoras in Jerusalem, in 1964.
We are preparing for this."
We may thus expect a papal visit to the Holy Land very soon.
On a side note, observe that he refers to Paul VI as "Pope Montini." This custom of referring to a pope by his family name is an established one in Italy and is not considered disrespectful.
3) What did the pope say about breastfeeding in public?
Pope Francis refers to breastfeeding in public as part of a set of larger remarks about the scourge of world hunger.
In the course of discussing this very weighty problem, he tells the following story:
At the Wednesday General Audience the other day there was a young mother behind one of the barriers with a baby that was just a few months old.
The child was crying its eyes out as I came past.
The mother was caressing it. I said to her: Madam, I think the child's hungry.
"Yes, it's probably time…" she replied.
"Please give it something to eat!" I said.
She was shy and didn't want to breastfeed in public, while the Pope was passing.
Though the subject of breastfeeding in public is tiny compared to world hunger, this statement is noteworthy.
Pope Francis apparently has no problem with public breastfeeding, even at a papal event. As one might expect from Francis, his attitude is: If the child is hungry, feed it!
4) What did the pope say about allegations that he is a Marxist?