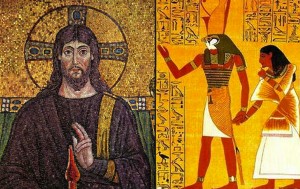 Some people claim that, a long time ago, there was a god.
This god was born of a virgin on December 25th.
He was baptized.
He had twelve disciples.
He healed the sick and raised the dead.
But he was betrayed and crucified, and on the third day he was raised from the dead.
And according to the people who claim this, this god was not Jesus Christ.
Instead, he was the god Horus.
And, since Horus was worshipped before Jesus Christ, they claim that Jesus Christ is just a rip off of the god Horus.
Are they right?
That's what we look at in this episode of the Jimmy Akin Podcast.
If you're reading the blog by email, click here to watch the video or listen to the audio-only version.
Use the links below to listen to or download the audio version.
What Now?
If you like the information I've presented here, you should join my Secret Information Club.
If you're not familiar with it, the Secret Information Club is a free service that I operate by email.
I send out information on a variety of fascinating topics connected with the Catholic faith.
In fact, the very first thing you'll get if you sign up is information about what Pope Benedict said about the book of Revelation.
He has a lot of interesting things to say!
If you'd like to find out what they are, just sign up at www.SecretInfoClub.com or use this handy sign-up form:
Just email me at jimmy@secretinfoclub.com if you have any difficulty.
In the meantime, what do you think?
Podcast: Play in new window | Download