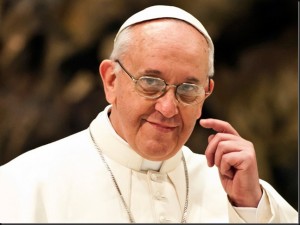 Did Pope Francis intentionally poke Protestants in the eye?
Did Pope Francis intentionally poke Protestants in the eye?
In a recent column, Presbyterian Bill Tammeus appeared to accuse Pope Francis of "intentionally offering a poke in the eye to people outside your faith tradition."
He asks if Pope Francis is "saying that I, as a Presbyterian, cannot follow Jesus outside of Catholicism? That's what he appears to be claiming, and I think it's a dicey position to highlight so early in his papacy."
Did Pope Francis "intentionally" poke Protestants in the eye? Did he say that Presbyterians cannot follow Jesus?
Or is Tammeus misreading the pope?
Here's the story . . .
Getting Started on the Wrong Foot
Tammeus begins:
Ever since the start of the Protestant Reformation nearly 500 years ago, Protestants have been understandably dismissive of the idea that the Roman Catholic church is the only true Christian church.
I hope that Tammeus realizes that this is not what the Catholic Church claims. That's too simplistic (see below).
And yet the leaders of the Catholic church have made that claim persistently over time in various ways.
Oops. Maybe not. Well, I certainly hope he at least understands that this is not the way the Magisterium articulates the issue.
The [way leaders of the Catholic Church have made that claim] that stirred up the most resentment under Pope John Paul II was contained in Dominus Iesus, issued in August 2000 by the Congregation for the Doctrine of the Faith, then headed by Cardinal Joseph Ratzinger, later Pope Benedict XVI.
The declaration said churches outside the Catholic church "are not Churches in the proper sense."
Okay.
Mr. Tammeus: It is my great pleasure to inform you that your concerns are to a substantial degree misplaced.
What the Catholic Church Actually Teaches