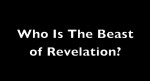 One of the most sinister figures in the Bible is the so-called "Beast" from the Book of Revelation. Portrayed as a frightening monster and identified with the ominous number 666, the Beast has been the subject of an enormous amount of discussion down through the centuries.
Countless individuals, both past and future, have been proposed as the true identity of the Beast, but what does the evidence from the Bible say?
In this video, I take a calm, balanced look at the evidence from the perspective of the original Christians reading the book of Revelation in the first century and suggest that the evidence points to an individual that many will find very surprising, especially if they view the book of Revelation as applying almost exclusively to the future.
Here's the video!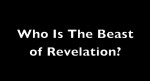 By the way, I'm preparing a Secret Information Club communique in which I "interview" Pope Benedict about the Book of Revelation.
If you'd like to know what Pope Benedict says about Revelation, you should sign up by Friday, May 25, and you'll get the special interview on Saturday morning.
You should sign up using this form right here:

Or you can use the one in the top right hand margin or by going to www.SecretInfoClub.com.