There is more evidence regarding who the Beast of Revelation is than I could fit in the first video I did on the subject, so in this video I pick up where I left off and reveal new and surprising facts–things most people have never heard of–that point to who the Beast is.
Here is a link to Part 1 in case you haven't seen it.
And now, here is Part 2!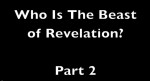 I'm preparing a Secret Information Club communique in which I "interview" Pope Benedict about the Book of Revelation.
If you'd like to know what Pope Benedict says about Revelation, you should sign up by Friday, May 25, and you'll get the special interview on Saturday morning.
You should sign up using this form right here:

Or you can use the one in the top right hand margin or by going to www.SecretInfoClub.com (if you have trouble, email me at jimmy@secretinfoclub.com.