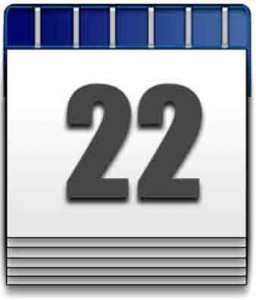 Today is the 3rd Sunday of Easter. The liturgical color is white.
Saints & Celebrations:
On April 22, there is no special fixed liturgical day in the Ordinary Form.
In the Extraordinary Form, we celebrate St.s Soter and Caius, popes and martyrs, who died in A.D. 174 and 296. It is a Class III day.
If you'd like to learn more about St.s Soter and Caius, you can click here.
For information about other saints, blesseds, and feasts celebrated today, you can click here.
Readings:
To see today's readings in the Ordinary Form, you can click here.
Or you can click play to listen to them:

Devotional Information:
According to the Holy See's Directory on Popular Piety:
92. The adaptation or inculturation of a particular pious exercise should not present special difficulties at the level of language, musical and artistic forms, or even of adopting certain gestures. While at one level pious exercises do not concentrate on the essential elements of the sacramental life, at another, it has to be remembered, they are in many cases popular in origin and come directly from the people, and have been formulated in the language of the people, within the framework of the Catholic faith.
The fact that pious exercises and devotions express popular sentiment, does not, however, authorize personalistic or subjective approaches to this material. With due respect for the competence proper to local Ordinaries or the Major Superiors of religious orders in cases involving devotions connected with their Orders, the Conference of Bishops should decide in matters relating to pious exercises widely diffused in a particular country or in a vast region.
Great vigilance and a deep sense of discernment are required to ensure that ideas contrary to the Christian faith, or forms of worship vitiated by syncretism, are not insinuated into pious exercises though various forms of language.
It is especially necessary to ensure that those pious exercises undergoing adaptation or inculturation retain their identity and their essential characteristics. In this regard, particular attention must always be given to their historical origin and to the doctrinal and [ritual] elements by which they are constituted.
With regard to the question of assuming certain elements from popular piety in the process of inculturating the Liturgy, reference should be made to the relative Instruction already published on the subject by this Dicastery.
Podcast: Play in new window | Download