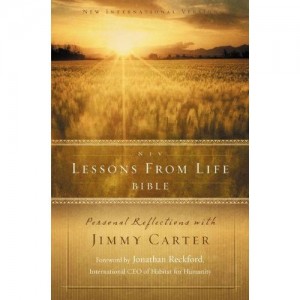 Former President Jimmy Carter has a new Bible!
One he wrote himself!
Partly!
The publishing house Zondervan has produced a new study Bible titled the NIV Lessons from Life Bible: Personal Reflections with Jimmy Carter.
Get yours today!
Or don't. Actually, let's go with that: Don't. Definitely don't.
Not if you want Bible commentary from someone who knows what he's talking about.
Carter can't even display minimal coherence regarding biblical interpretation in friendly interviews designed to promote his . . . er . . . book.
Consider the veritable storm of nonsense he unleashed in this interview with the Huffington Post.
Paul Brandeis Raushenbush: Thank you so much for talking with me President Carter. As I warned, I am going to be asking the tough questions. So … Did God write the Bible?

President Jimmy Carter: God inspired the Bible but didn't write every word in the Bible. We know, for instance that stars can't fall on the earth, stars are much larger than the earth. That was a limitation of knowledge of the universe or physics, or astronomy at that time, but that doesn't bother me at all.
Hmmm. God inspired the Bible but he didn't write every word in it.
How does that square with Jesus' statement: "I say to you, till heaven and earth pass away, not an iota, not a dot, will pass from the law until all is accomplished" (Matt. 5:18)? This seems to suggest that God didn't only supply the words but the individual letters and strokes.
That doesn't mean that God intended everything in Scripture to be a straightforward, literal assertion to be understood in the sense a modern would take it. Clearly he doesn't. Let's take the passages about stars falling to earth as an example.