I love rice. But it's high in carbs, so naturally I've wanted a low-carb substitute for it.
I've tried a number of things. For example, grading and cooking cauliflower. Texture-wise, that's not a bad substitute, but it tastes like cauliflower and not rice. Even when fried with oils and spices that you would use making fried rice, it still has that cauliflower taste in there somewhere.
I've thought for a long time that low carb pasta makers ought to make low carb orzo, which could be used as a rice substitute, but thus far I haven't found that–at least with Western-style low carb pasta.
I have found basically that with Eastern-style low-carb pasta.
Recently I tried a rice substitute made from shirataki, which is the root of a plant in Asia. It's the same material as shirataki noodles, just in a different shape.
I ordered a box of "Miracle Rice" from Amazon, and here's what an individual package looks like (click to embiggen):
As soon as I got the stuff, I realized I've seen it repeatedly in Asian markets. It's just that since the label wasn't in English I wasn't sure that what I was looking at was shirataki or that it was meant as a rice substitute. 
Here's what it looks like out of the package: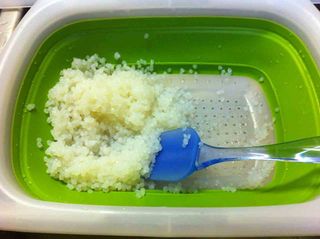 In this picture I was rinsing it (something you're supposed to do with a lot of even regular rice), prior to blanching it, which is all the cooking this type needs. It's already soft, but the blanching removes shirataki aroma and makes it smell and taste neutral. Same as with shirataki noodles.
And here it is all blanched: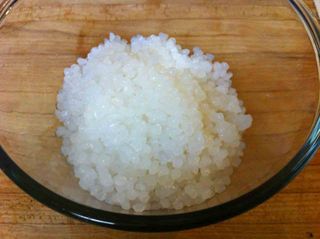 Next I made a stir-fry with beef and vegetables so as to make beef fried rice. Here's the stir-fry in progress. As it was cooking, I thought, "This looks and smells so good, all I need to do is add my final spices and soy sauce and I'd have a great stir fry even without the rice. Mmmmm!"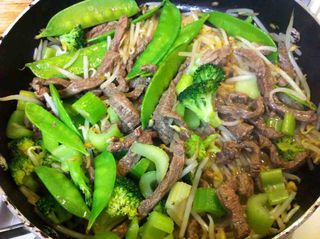 And here's the final product: low carb beef fried rice made with shirataki rice:
So how was it?
It was quite good!
It was certainly the best low carb rice substitute I've had thus far–and by far.
The mouth feel is quite similar to that of regular rice. It's not unduly rubbery or anything. You can bite through an individual grain of this the way you can an individual grain of regular rice. The neutral taste does not stand out against the flavors and seasonings added to it, again like regular rice.
One point of difference is that this stuff is not as sticky as regular Asian rice, and so it is not easy to eat with chopsticks (assuming you're used to eating rice with chopsticks). However, I have an idea about how to fix that (more on that in the future).
I'm interested to try it in other rice applications soon, such as risotto, in a casserole, etc. Or in place of barley in soup (Mmmm. Vegetable beef soup. A childhood favorite.)
I'll let you know how it goes!
In the meantime . . . 
YOU CAN ORDER SOME OF THE SHIRATAKI MIRACLE RICE FOR YOURSELF HERE!