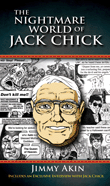 Step into the nightmare world of Jack Chick
You've probably seen one or more of Jack T. Chick's comic book-like tracts. They have titles such as Are Roman Catholics Christian?, The Death Cookie, and Why is Mary Crying? And they're full of wild, false, and downright malicious charges against the Roman Catholic Church and its teachings.
Read them, and you step into a nightmarish world of shadow and intrigue, a world of paranoia and conspiracy theories, a world where the Catholic faith is the devil's greatest plot against mankind.
Chick has sold more than 700 million of these tracts, and has turned millions of Catholics and Protestants against the Church and its teachings in the process.
Jimmy Akin's new book The Nightmare World of Jack T. Chick aims to change that. It reveals everything you need to know about Jack Chick and the many lies he tells about the Catholic Church and its teachings. And it reveals how you can defend the faith against Chick's lies. It's a must-have for anyone who cares about the cause of truth.