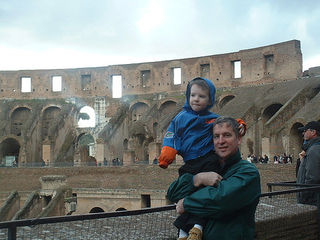 It was with great sadness that I learned of the passing of Michael Dubruiel, the husband of Amy Welborn and father of two.
On the left is a picture of him and one of their children in the Colosseum.
Michael collapsed suddenly at the gym and could not be revived.
I would like to extend condolences to Amy and her whole family, as well as prayers for Michael and all of them.
I know what it is like to lose a spouse suddenly and at an unnaturally young age, and it is a place you really don't want to be.
I invite everyone to pray for Michael, Amy, and their whole family.