What happened in 1879?
Well, the California Constitution was ratified.
The Anglo-Zulu War began.
Madison Square Garden opened.
Doc Holliday killed his first man.
The apparition at Knock, Ireland occured.
The Pirates of Penzance was first performed.
Thomas Edison demonstrated incandescent light to the public for the first time.
Oh, and something else happened . . .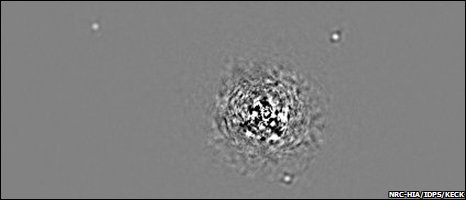 The light captured in the above photograph was released.
You're looking at a picture of the year 1879–a picture that was only just taken.
How's that?
It's because the light captured in the picture left the star system cataloged as HR 8799, some 129 light years from earth.
Why do I say "star system" instead of just "star"? Because, while the star is the center blob in the picture, the three small dots are actually planets.
This is the first extra-solar planetary system to be observed and photographed directly.
The planets are about 2 to 2.5 times the size of Saturn, Uranus, and Neptune, and they orbit the star in periods between 100 and 460 years.
We have this view of them because we're apparently oriented so that we're looking down at the plane of the HR 8799 solar system.
There could be terrestrial planets closer in to the star, but not much chance for life there. The star is too young and too variable, but it's so cool have visible light pictures of another star system.
Oh, and THIS SYSTEM ISN'T THE ONLY ONE TO BE PHOTOGRAPHED.