Where We Dance
We dance at the Lakeside Community Presbyterian Church.
The address is 9908 Channel Rd, Lakeside, CA.
We dance in the preschool building at the back of the property. Here is a bird's eye view of the church property, with a big red X marking the preschool where we dance (click on the image to enlarge it!):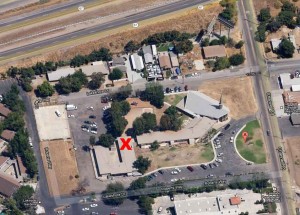 Look forward to seeing you there!
WHEN:
6:30 – 8:00 p.m. (Class Dance)
8:00 – 9:30 p.m. (Club Dance)