About Alpine Squares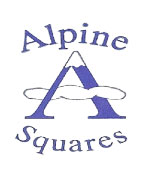 The Alpine Squares is a nonprofit organization which promotes America's National Folk Dance (Square Dancing) and provides social and recreational benefits to its members.  The Club originated in Alpine, CA in 1978, and subsequently relocated to Lakeside, CA.
The Alpine Squares have hosted a "Christmas Sock Hop" fundraiser dance for the benefit of Children's Hospital every year since 1984.
The Alpine Squares, along with other square dance clubs in San Diego County, perform square dance demonstrations at various civic and patriotic events including the Del Mar Fair, Balboa Park, Seaport Village, in parades, at schools, and at other public activities.
The Alpine Squares offers its members wholesome, inexpensive, and healthy recreation for all ages.  Membership is open to singles, couples, and families.  Spectators are welcome to visit Club dances.  Classes to learn square dancing are offered on an annual basis.
(Rev. 18 Dec 2011)