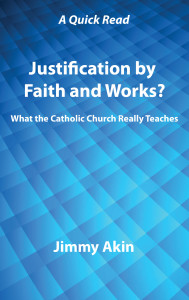 So I decided to celebrate my recent birthday by making a low-carb pizza and by launching a line of ebooks.
The new ebooks are designed to be read quickly, in just a few minutes, and the first one is already up on Amazon.
It's called Justification by Faith and Works? What the Catholic Church Really Teaches.
It will prove to be an eye-opener for anyone who repeats the standard claim that Catholics believe in justification "by faith and works."
As always, I use Scripture and official Church documents–including what Pope Benedict XVI had to say on this subject (his answer may surprise you!).
At just $2.99, the new ebook gives you a quick but thorough look at a hot-button issue in apologetics, grounded in the Church's official teachings.
Thanks for checking it out! If you like it, I hope you'll leave a positive review!
Here's the link to get it . . .