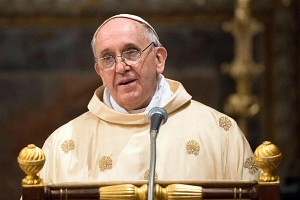 This version of The Weekly Francis covers material released in the last week from 15 August to 17 August 2013.
Note: Not many links this week since several documents have not been translated to English yet.
Homilies
Papal Tweets
"To be children of God, and brothers and sisters to one another: this is the heart of the Christian experience." @pontifex, 13 August 2013
"Mary, Mother of God, pray for us sinners, and guide us on the way that leads to Heaven." @pontifex, 15 August 2013
"We cannot sleep peacefully while babies are dying of hunger and the elderly are without medical assistance." @pontifex, 17 August 2013
Note: Due to problems with using copyrighted material from the Vatican the eBook version of The Weekly Francis has been suspended. For users of the previous ebook volume I have some suggestions for alternatives on how to best read these documents especially on mobile platforms.