Hey, look what I just got!
Here is a picture of some frankincense and myrrh that I just received.
(The frankincense is on the left; the myrrh is on the right.)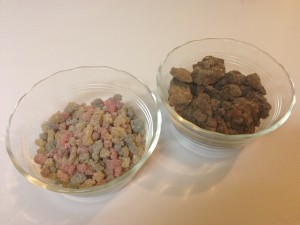 I'd never seen these substances with my own eyes before, but I got them for an upcoming video I'm planning on making on . . . you guessed it . . . what gold, frankincense, and myrrh are.
But I was excited enough that I wanted to share an early photo.
When the video goes up, it will be on my YouTube channel, www.YouTube.com/JimmyAkin. (link fixed)
If you'd like to be automatically notified by email when the video goes up, you can subscribe to my YouTube channel.
Just click here to subscribe! (link fixed)
Currently, I've got just over 1,600 YouTube subscribers (thanks, everybody!).
Subscribers get a shiny new email every time I upload a video, so they're among the first to see it.
In the upcoming video, I'm going to burn some of the frankincense and myrrh as incense and give a report on what they smell like.
I'm interested to find out myself!
I'll also tell you how you can get your own frankincense and myrrh, so that you can find out first hand.
Stay tuned!