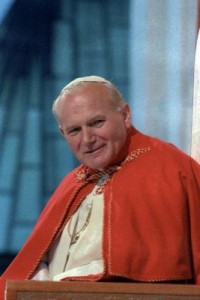 This is an alert for all members of the Secret Information Club that the John Paul II "interview" on hell is now complete and will be delivered to your email inboxes the morning of Saturday, June 16th (U.S. time).
Like some other secret club communiques, I pose questions in the interview and the answers are taken from the writings of John Paul II.
Very few churchmen are willing to speak about the doctrine of hell, but John Paul II was one of them, and the interview presents his wisdom on the doctrine of hell, its biblical basis, how we should understand it, and what it means for our lives.
If you are already a member of the Secret Information Club, you will get this interview automatically.
If you are not yet a member of the Secret Information Club and would like to receive it, you should sign up for the Secret Information Club by Friday, June 15th. Signing up is FREE!
You should sign up using this form:
(If you have any trouble, just email me at Jimmy@SecretInfoClub.com.)
You can also go to www.SecretInfoClub.com for more information.
Incidentally, before he hopped on a plane for Israel recently, the globe-trotting author, blogger, and apologist Steve Ray sent me an email (and permission to use it) in which he said:

"Bravo, Jimmy! I look forward to your secret messages as a member of your Secret Information Club.
Actually, I like it that you do a lot of research I wish I had time to do.
Don't tell anyone–this is a secret–but I copy each one and save it in my Logos Bible Software program for future reference.
Very valuable, fun, and great content. Keep up the good work."
Steve Ray
www.CatholicConvert.com