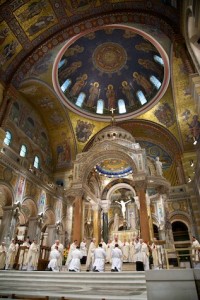 Our Protestant brethren are sometimes critical of the Catholic priesthood, pointing to passages in the New Testament that describe Christians in general as a "royal priesthood" or "a kingdom of priests."
This leads to the concept frequently referred to in Protestant circles as "the priesthood of all believers."
What is often unrecognized is that the relevant New Testament passages are quotations from Old Testament passages that refer to the Israelites in just the same way.
So if in the Old Testament there was a "priesthood of all Israelites" alongside a ministerial priesthood possessed by only some Israelites then in the New Testament there can be a "common priesthood" (to use a Catholic term for it) that exists alongside the ministerial priesthood exercised by Christ's ordained ministers.
For it's part, the Catholic Church acknowledges the universal priesthood of all Christians.
For example, in one of his general audiences, Pope John Paul II commented on one of the universal priesthood passages in the book of Revelation and remarked:
As [the Lamb] has been "slain", he is able to "ransom" (ibid.) men and women coming from the most varied origins.
The Greek word used does not explicitly refer us to the history of the Exodus, where "ransoming" the Israelites is never spoken of; however, the continuation of the phrase makes a clear reference to the well-known promise made by God to the Israelites of Sinai: "You shall be to me a kingdom of priests and a holy nation" (Ex 19: 6).
This promise has now become a reality: the Lamb has truly established for God "a kingdom and priests… who shall reign on earth" (cf. Rv 5: 10).
The door of this kingdom is open to all humanity, called to form the community of the children of God, as St Peter reminds us: "You are a chosen race, a royal priesthood, a holy nation, God"s own people, that you may declare the wonderful deeds of him who called you out of darkness into his marvellous light" (I Pt 2: 9).
The Second Vatican Council explicitly refers to these texts of the First Letter of Peter and of the Book of Revelation when, referring to the "common priesthood" that belongs to all the faithful, it points out the components to enable them to carry it out.
"The faithful indeed, by virtue of their royal priesthood, participate in the offering of the Eucharist. They exercise that priesthood, too, by the reception of the sacraments, prayer and thanksgiving, the witness of a holy life, abnegation and active charity (Lumen Gentium, n. 10) [General Audience of Nov. 3, 2004].
So it isn't a question of whether there is a common priesthood shared by all Christians.
There is.
The question is whether the existence of this priesthood excludes another, ministerial priesthood.
As shown by the parallel Old Testament priesthoods, it doesn't.