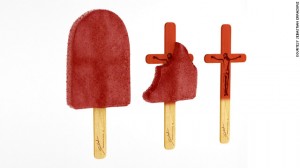 A page on CNN's web site is headlined:
Jesus Christ ice pops made from frozen, inadvertently blessed wine. No, we can't believe we typed that, either.
The story goes on to explain:
Sebastian Errazuriz has used art to take on an array of issues: New York's death rate, the Occupy movement, military suicide, children with disabilities, the brutal reign of Chilean dictator Augusto Pinochet. Now, the Brooklyn-based artist is taking aim at what he sees as religious extremism.
At a party this weekend celebrating New York Design Week, which begins today, the Chilean-born artist plans to hand out 100 "Christian Popsicles" made of "frozen holy wine transformed into the blood of Christ" and featuring a crucifix instead the tongue depressor that typically hosts the frozen treats, he said.
According to a related story:
"It's not that I purposely want to get in trouble. I just believe if you are not doing work that can make people stop, think and discuss, then it's better not to make any work at all," he said.
Raised in a Catholic household, Errazuriz is now a "practicing atheist," but he has many friends and family members who are religious, and he respects their beliefs. He has always been vexed by religion, however, particularly the practitioners who wish to force their beliefs on others.