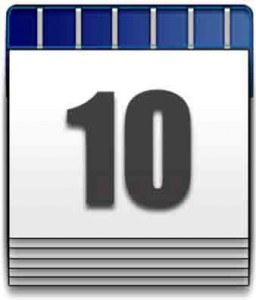 Today is Tuesday within the octave of Easter. The liturgical color is white.
Saints & Celebrations:
On April 10, there is no special fixed liturgical day in the Ordinary Form.
There is no special fixed liturgical day in the Extraordinary Form.
For information about other saints, blesseds, and feasts celebrated today, you can click here.
Readings:
To see today's readings in the Ordinary Form, you can click here.
Or you can click play to listen to them:

Devotional Information:
According to the Holy See's Directory on Popular Piety:
The Via Lucis ["Way of Light"]
153. A pious exercise called the Via Lucis has developed and spread to many regions in recent years. Following the model of the Via Crucis, the faithful process while meditating on the various appearances of Jesus – from his Resurrection to his Ascension – in which he showed his glory to the disciples who awaited the coming of the Holy Spirit (cf. John 14, 26; 16, 13-15; Lk 24, 49), strengthened their faith, brought to completion his teaching on the Kingdom and more closely defined the sacramental and hierarchical structure of the Church.
Through the Via Lucis, the faithful recall the central event of the faith – the resurrection of Christ – and their discipleship in virtue of Baptism, the paschal sacrament by which they have passed from the darkness of sin to the bright radiance of the light of grace (cf. Col 1, 13; Ef 5, 8).
For centuries the Via Crucis involved the faithful in the first moment of the Easter event, namely the Passion, and helped to fixed its most important aspects in their consciousness. Analogously, the Via Lucis, when celebrated in fidelity to the Gospel text, can effectively convey a living understanding to the faithful of the second moment of the Pascal event, namely the Lord's Resurrection.
The Via Lucis is potentially an excellent pedagogy of the faith, since "per crucem ad lucem." Using the metaphor of a journey, the Via Lucis moves from the experience of suffering, which in God's plan is part of life, to the hope of arriving at man's true end: liberation, joy and peace which are essentially paschal values.
The Via Lucis is a potential stimulus for the restoration of a "culture of life" which is open to the hope and certitude offered by faith, in a society often characterized by a "culture of death", despair and nihilism.
Podcast: Play in new window | Download