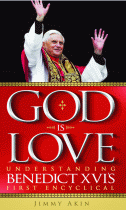 "We have come to believe in God's love; in these words the Christian can express the fundamental decision of his life." So begins the first encyclical of Pope Benedict XVI, Deus Caritas Est.
To help every Catholic understand as fully as possible the content and significance of this first encyclical of our new Pope, Jimmy Akin has constructed a guide covering both the issues surrounding the nature of a papal encyclical in general, and what this particular encyclical tells us.
You'll learn why Benedict chose to write on the subject of God's love, what crises he is addressing, how he explains love in the encyclical, and much more.
If you want a firm grasp of these truths, be sure to read this helpful guide!