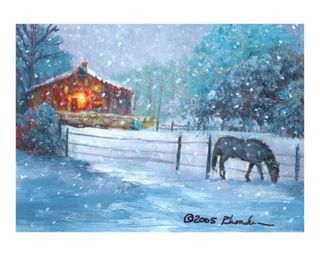 One of my favorite humorists is the early 20th century Canadian economics professor Stephen Leacock. No, really! A professor of "the dismal science" who had a really great sense of humor!
One of my favorite Leacock books is Nonsense Novels, which came out in 1911. In it, each chapter is a parody of a popular genre of fiction (chapter 1 is a parody of Sherlock Holmes, there's a rags-to-riches story, a ghost story, a science fiction story, a Russian tragedy, a seafaring/pirate tale, etc.).
There's also a Christmas story melodrama. 
Here's . . .
An oldfashioned text version if you like, you know, want to read with your eyes or something.
And a Librivox volunteer recording.
BTW, I can't help but imagining this story unfolding in my family's ranch house in Deep East Texas, where my grandmother lives (talked to her for most of an hour today!), though it virtually never snows there.
Podcast: Play in new window | Download