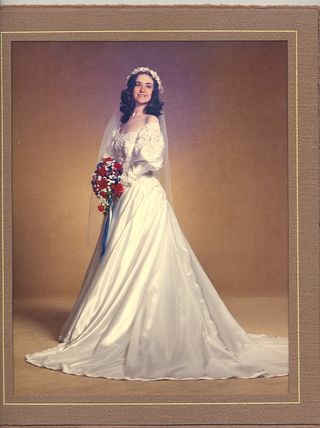 Every year in August I have a series of special days. First, the 22nd (Queenship of Mary) is the anniversary of my reception into the Church. Then comes my birthday. Then, on the 26th, it is the anniversary of my wife's death.
Renee passed eighteen years ago today after a two-month battle with colon cancer. She had just turned 28.
You can read about it if you like.
I realized that I'd never put a picture of her online, and so I scanned this one.
You don't know it from looking at the picture, but she's actually standing on phone books to make her look taller.
In the words of a Mark Heard song,
I see you now and then in dreams
Your voice sounds just like it used to
I know you better than I knew you then
All I can say is I love you

I thought our days were commonplace
Thought they would number in millions
Now there's only the aftertaste
Of circumstance that can't pass this way again

Treasure of the broken land
Parched earth, give up your captive ones
Waiting wind of Gabriel
Blow soon upon the hollow bones

I can melt the clock hands down
But only in my memory
Nobody gets a second chance
To be the friend they meant to be.