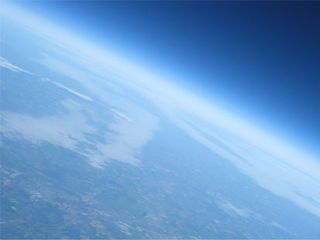 Here's an interesting little home-made device.
Mind you, it's nowhere near as cool as a gasoline-powered alarm clock, but it'll do nicely.
An English man made it with a camera he got off eBay, a weather balloon, a GPS tracker, some fiberglass insulation, and–yes–duct tape.
ABC News reports:
He buys weather balloons from a supplier in the United States. . . . He uses an off-the-shelf GPS locator, which gets signals from U.S. satellites, so he can track the balloon on Google maps. He bought a Canon pocket digital camera (a model discontinued in 2008) and attached a circuit board so that it would take pictures every five minutes.

The balloon rises, carried randomly by the wind, until it bursts. The camera then parachutes to the ground in its housing. Harrison put his phone number and a printed label on the outside: "Harmless Scientific Experiment."
BTW, the picture is one of his. Yorkshire from 20 miles up.