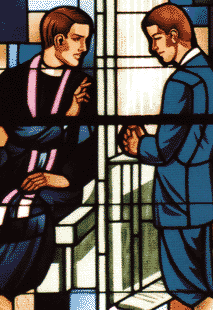 Since we are approaching Easter, many candidates will be making their first confession in preparation for reception into full communion with the Church.
This can be a scary thing if you've never been to confession before, particularly since this first confession may cover a period of years in one's life, rather than a shorter time.
In light of that, I thought the following e-mail exchange (with the inquirer's identity shielded, per my usual policy) might prove helpful to some preparing to be received.
An inquirer wrote:
I have a huge issue. I am looking to convert to Catholicism and have heard all the horror stories involving confession. I committed [a particular act] and am extremely revolted by what I did, and have prayed that it might be removed from my being. I have also read in several places online about the penance for such acts. As I would be confessing it in my first confession would those penances allow me to still take part in the confirmation activities and first Eucharist? What would the penance be? It is a thing that brings me great shame and I am still not sure if I could voice it in regular company, let alone to the priest who is acting as the corporeal Christ.
I responded:
Thank you for writing. I want to praise you for your willingness to respond to God's call, even when it means facing some difficult situations. He will surely bless you for that.

It is also clear that you are sincere and want to do God's will. Again, he will bless you.

I am not sure what horror stories you are referring to regarding confession. There are times when priests make mistakes, but the vast majority of priests are very kind and gentle in confession. This is true of confession in general, but it is especially true in first confessions.

Typically the penances that are given are saying a few prayers, perhaps reading the Scripture readings for the day, meditating in front of the Eucharist for a few minutes–that type of thing. I would not worry about getting a severe penance. While such were more common in earlier centuries, today penances are very mild.

You also do not have to have completed the penance before you can receive the other sacraments. Thus if you went to confession right before confirmation or the Eucharist, you could go ahead and receive these sacraments and do the penance afterward.

More typically, candidates for reception into full communion will go to confession a day or more before they are received into the Church and confirmed.

Also, I should mention, that if you are not baptized then when you are baptized it would take away all previous sins without the need to confess them.

If you are baptized and thus need to confess the act, but find it difficult to say out loud, then take heart! You don't have to say it out loud. You can write it down on a piece of paper, hand it to the priest, and say, "I have this to confess" (or words to that effect).

In fact, for first confessions that can be kind of lengthy and in which one might have a bunch of sensitive and easy-to-forget stuff to review, using the written form is not a bad idea. Just make sure that you take the paper and completely destroy it afterwards so nobody can read it. (Burn it, tear it up and flush it down the toilet, whatever.)

Also, don't worry about the priest serving on behalf of Christ. God already knows all of our sins, and the point of the priest is so that we can be reconciled with God.

I hope this helps, and God bless you! I'll be keeping you in my prayers. Please keep me in yours.