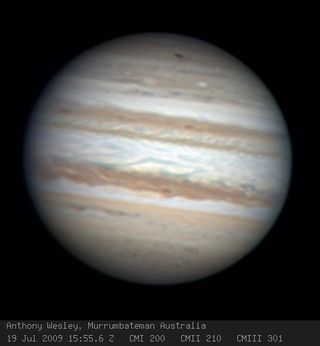 Some amateur astronomers have detected a dark spot on Jupiter (left, near the upper pole) that they think may be an impact mark in the atmosphere.
In other words, Jupiter may have been hit by an asteroid, comet, or comet fragment, like when it was struck by fragments of Comet Shoemaker-Levy back in 1994.
The difference would be that back in the '90s we saw the comet coming and this time we apparently didn't see whatever-it-was sneaking up on the big planet.
I'm just glad that Jupiter is out there taking bullets for the rest of the solar system.
It's thought–especially among rare-earth advocates–that the existence of Jupiter is one of the reasons life was able to evolve here on Earth by shielding the inner solar system from impat events (though there is doubt about that).
In any event, astronomers should figure out soon whether this was a real impact event.
It's just cool that astronomy is one science where nonprofessionals can still make valuable contributions.
And look at how the guys in their combox go into action trying to get the sighting reported and confirmed. 
GET THE STORY. (cht: Instapundit)