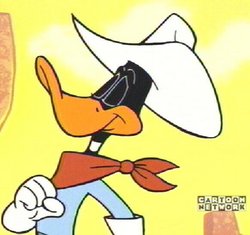 Daffy Duck made his first appearance April 17, 1937 in the short "Porky's Duck Hunt" and was an instant success.
Audiences couldn't stop talking about the screwball duck and he quickly supplanted Porky Pig in popularity.
Porky gracefully recovered, eventually accepting the role of straightman for the daffy duck.
As a prima donna, though, Daffy never recovered when he himself was supplanted by Bugs Bunny and has become obsessed with reclaiming the spotlight he lost to Bugs.
That's no reason not to pay tribute to a true comic genius, though.