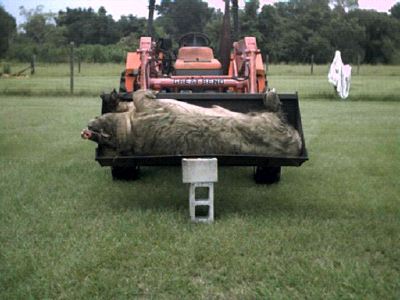 A Florida hog hunter downed a 1,140 lb. wild hog last August.
This hog, dubbed "Hog Kong," was larger than the behemoth "Hogzilla" killed in Georgia.
The hunter, Larry Earley, downed the beast with a .44 magnum.
He later said: "I didn't realize he was that big or I would have gotten a different gun."
No, duh!
He's lucky to have brought down a 1,140-lb. hog with a handgun of any caliber!
Hog Kong has inspired a number of tall tales on the Internet, but
IN THIS STORY EARLEY SETS THE RECORD STRAIGHT ABOUT WHAT HAPPENED.
DAILY PLANET — Just before being shot by Earley, Hog Kong was distracted by a beautiful woman resembling Faye Ray, leading one local rustic to remark, "Shazam! T'was beauty kilt the beast!"
In a related development, Toho Studios announce a porcine remake of its classic monsterbash King Kong vs. Godzilla as Hog Kong vs. Hogzilla. Plans are for the film to have two endings. The first, to be shown in Georgia, will have Hogzilla win the climactic battle, while the second, to be shown in Florida, will have Hog Kong as the victor.